CATASTROPHE!

The first book in the ILLOREAEN series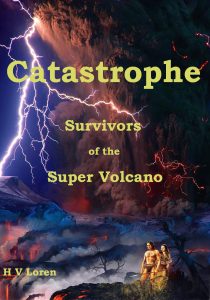 CATASTROPHE is a pre-historical novel that realistically depicts the events and conditions during the greatest catastrophe ever to befall humankind. 74 000 years ago the Toba volcanic eruption had a worldwide effect that reduced the number of humanoid survivors to only a few breeding pairs, unlikely to survive through the resulting volcanic winter that lasted for up to a thousand years.
A few intelligent Clans lived in the fertile valleys of what we now call the Caucasus Mountains when the shock waves of the Toba Super Volcano eruption caused earth quakes and a massive wind storm, which triggered sympathetic eruptions of volcanoes all over the world.
In the ensuing chaos the different hominid species and groups attacked and exterminate each other in their quest for the diminishing resources.
How can the Clans survive?
The three main characters, Questa, Orrox and Anja, require incredible ability, foresight and luck to ensure that at least a few of their species will live through the disruption and the volcanic winter that follows the Catastrophe.
Questa's problems begin early, when she is abducted by Giant Neanderthals. Death becomes her only hope to escape from the brutality of her captors. For her the catastrophic effects of the remote eruption give hope that she might manage to escape.
Orrox realizes that the upheavals and storm wind that injure a local Clan, are only the local effects of a world-encompassing Catastrophe, caused by a faraway Super-Volcano explosion and realises that a volcanic winter is unavoidable. He is wounded while helping a Clans fighting invaders, but cannot stop the massacre. As the volcanic winter intensifies, Orrox has to find a safe refuge for the remnants of the Clans to survive.
Anja experiences the Catastrophe in the form of earthquakes that destroy her Clan Habitat, killing everyone. She has to escape from the devastated valley and find other survivors or perish.
Only a secret, technology advanced Clan called the ILLOREAENS, is relatively unaffected by the Catastrophe unleashed by the eruption.
666total visits,12visits today