In CATASTROPHE! – The Survivors of the Super Volcano we encounter three groups of hominins.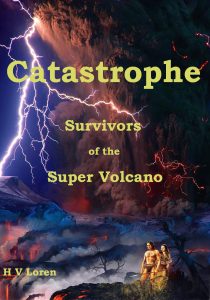 In fact many different humanoid species (hominins) still roamed the earth at that time:
Homo erectus of which we believe only the homo florensiensis branch survived, until a few thousand years ago, as dwarfs (island dwarfism on the island of Flores in Indonesia.
Homo neanderthalensis (called Giants by the Clan) survived until about30 000 ya in colder areas
Homo sapiens (that's us), the only survivors (except the Clans?)
Homo Denisovans did not survive.
Homo Erectus did not survive.
Many other Homo species did not survive.
Here are some interesting  references on the hominins that existed 74 000 years ago:
References.
On Hominids:
Cro-Magnon by Brian Fagan. Bloomsbury Press 1st US ed.
General information on hominids.
Effect of Mount Toba Super volcano on Hominid life. Pages 93-97.
Cold period 74 000BP – Pages 53, 105
Map of Europe during the Last Glacial Maximum Page 155
The Emergence of man – Time life books 1973.
General information on hominids.
 Please blog us about interesting facts and articles you have found.

601total visits,1visits today